Molten Zinc Pumps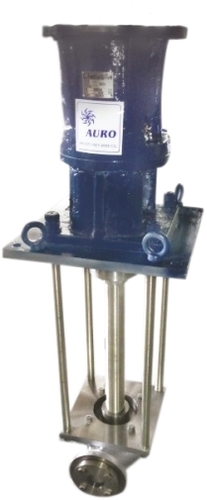 Molten Zinc Pumps
Price And Quantity
Product Specifications
Product Description
Our capabilities and mechanical knowledge has enabled us to manufacture and export Molten Zinc Pumps. These products are used in different processing units for maintaining the consistent flow of molten zinc. Our offered products are known in the market for their effective and smooth operation. Owing to their non-corrosive surface, these products require very less maintenance. Molten Zinc Pumps are delivered to the clients in a defined time slot owing to our extensive supply chain.
Other details:

High Temperature Molten Metal Pumps for Temperatures up to 500 C.
High temperature Molten metal pumps for molten zinc, molten lead and molten salts for temperatures up to 500 Celcius in all MOCs. Auro's High temperature pumps are used for transferring molten, hot oil and many other non-viscous materials. Because these pumps are centrifugal. with bearing located out of the not material, very little maintenance is required.

Applications:

Molten Zinc pumps are used in Galvanizing plants.
Molten salts pumps are used in solar power plants for transferring and circulating purposes.
Specifications
Maximum immersion 24 inches.
Gussets for lowering pump during operation.
304 stainless steel construction.
Discharge: 9" x 6"
316 stainless steel construction optional at additional cost.
Our larger pumps utilize motors from 5HP to 25HP.
These pumps feature Stainless steel shafts with Cast Iron / Cast Steel Impeller and Volute, mounted on a sturdy H-frame.
Pump AMZ-2 has maximum immersion of 1.37 mtr.
Pump AMZ-1 has maximum immersion of 2.05 mtr.
Heavy duty hooks are mounted on the pedestal to lower the pump into the molten material.
Discharge is 50.80 NPT.
Flow rate-meter cube per hour
| | | | |
| --- | --- | --- | --- |
| Molten | 1.5 m head | 3m head | 4.5m head |
| Salt | 11 | 10 | 8 |
| Zinc | 68 | 46 | 27 |
| Lead | 47 | 25 | N/A |

Molten Lead : Flow rate - Kg per minute

| | | | | | |
| --- | --- | --- | --- | --- | --- |
| Model | HP | 1.5 m head | 3.0 m head | 4.5 m head | 6.1 m head |
| AML-5 | 5 | 465 Kg | 395 Kg | 285 Kg | 145 Kg |
| AML-7 | 7.5 | 700 Kg | 590 Kg | 425 Kg | 220 Kg |
| AML-10 | 10 | 935 Kg | 785 Kg | 570 Kg | 290 Kg |
| AML-15 | 15 | 1400 Kg | 1185 Kg | 855 Kg | 440 Kg |

Molten Zinc : Flow rate - Kg epr minute

| | | | | | |
| --- | --- | --- | --- | --- | --- |
| Model | HP | 1.5 m head | 3.0 m head | 4.5 m head | 6.1 m head |
| AML-5 | 5 | 750 Kg | 630 Kg | 450 Kg | 236 Kg |
| AML-7 | 7.5 | 1130 Kg | 950 Kg | 685 Kg | 354 Kg |
| AML-10 | 10 | 1500 Kg | 1265 Kg | 915 Kg | 470 Kg |
| AML-15 | 15 | 2250 Kg | 1900 Kg | 1370 Kg | 700 Kg |

Molten Salt : Flow rate-meter cube per hour

| | | | | | |
| --- | --- | --- | --- | --- | --- |
| Model | HP | 1.5 m head | 3.0 m head | 4.5 head | 6.1 m head |
| AMS-5 | 5 | 34 | 27 | 19 | 10 |
Trade Information
Palej , Gujarat

1 Per Month
1-5 Week

Wooden Box / loose packing
Contact Us
Plot No.104/5 & 6, G.I.D.C., Palej, Dist-Bharuch, Palej, Gujarat, 392220, India
Phone :08037265612